The 13th full Reunion took place on
Friday 11th & Saturday 12th March 2011
Page last updated 3rd April 2011


The regular venue - the Packet Steamer, Netherton, Liverpool - was the venue for the Thirteenth Annual Reunion (but would be the 14th including the original with four of us on a a trip up The Manchester Ship Canal in August 1997).

It was the usual casual event for ex-PSNC sea-going officers ie. Captains, Deck, Engine, Electrical and Radio Officers, Pursers, Chief and Second Stewards and their spouses, partners and "significant others".

Friday evening was a get-together over a few pints but on Saturday night we arranged a photo slide show which after a lot of pre-planning and prparation went off with only a minor hitch or two!
Attended:-
If I have missed anyone out or made a mistake, please do tell me!
(I had to apologise to Cyril Davie this year as his name had been omitted from the list for 2010 and his wife wanted to know where he had been. As a result he brought both sons along as witnesses and chaperones!)
(2) means both evenings
Ashton, Colin (2)
Atkinson, Frank (Sat)
Bridson, David (2)
Crabtree, Dennis and Deborah (2)
d'Arcy, Sam (Sat)
Davies, Cyril And sons Karl and Kevin(Sat)
Ellis, Jim (Sat)
Erskine, Barry and Anne (2)
Farrell, Hugh and Esther (Sat)
Flaherty, John (2)
Gregson, Phil and Chris (2)
Guymer, Bernie and Ann (2)
Hilton, Bill and Shiela (2)
Houghton, Capt. David (2)
Imhof, Hans (Sat)
Jenkins, John and Wendy (2)
Lancaster, Brian ("Blue") and Yvonne (2)
Monk, John and Sharon (Sat)
Moore, Les (Fri)
Newton, Dave (2) and Elizabeth (Sat)
Nuttall, Jeannie (2)
Owen, Kenneth & Mrs Pauline Tring (Sat)
Penny, Arthur and Kathleen(2))
Quirk, Mike and Kath (2)
Parke, Terry (2)
Quirk, Mike and Kath (2)
Ratcliffe, Peter (Sat)
Richardson, Mervyn (2)
Robertson, Neil and Bernie Howden (2)
Scott, Carlisle and Eurwen (2)
Shimmin, Graham
Stone, Brian and son Matthew (2)
Thackery, Gill (2)
Tickell, Ian (2)
Tomlinson, John (Sat)
van Toren, Adrian and Louise(2)
Wallace, Bill and Nora (2)
Wright, John (Fri)
Wile, John (2)
Had hoped to attend:-
Banks, John and Liz
Bennett, John (ex 3rd Engineer)
Brewer (nee Morris), Pat (Fri)
McWilliam, Stuart
Robinson, Richard
Stuart, James
Apologies:-
Adams, Keith - has family commitments in California
Addison, Alan and Sheila - will be away
Bradshaw, Kenneth and Irene - living in Tasmania - "we offer best wishes that the event will be it's usual stunning success!"
Cliefe, Peter - living in Spain
Egan, Mike - Family commitments in Spain
Farrer, Ron - Sorry, not allowed to travel but hope all have a great reunion. (ex Lagarto and Salamanca)
Fullam, Norman - will be delivering a boat to the Exhumas
Hudson, Alan and Jean
Humphreys, Neville
Hyland, Kevin - still in Santiago but send his best wishes to everyone.
Jones, Des - sadly, ill health prvents his attendance but he said, "Best wishes to all those attending and I hope you all have a great time."
Jones, Stuart and Meryl - in Australia but intend being at the 2012 Reunion!
Hill, Tim - please extend my very best wishes to everyone there
Lee, Mike - will be aboard the Queen Elizabeth
Lowther, Clifford and Jenny will be away
MacLeod, Fred
McColl, Neil and Pam - too far to travel from Panama - Best wishes to all
Stringfellow, Arthur - unfortunately, his wife has not been well and is unable to travel at present.
Turner, Alister - will be in Spain
Valentine, Geoff
Weate, Tony - out of UK
Webb, Dave - once again has to decline due to the "tyranny of distance" (lives in Australia)
Welton, Chris and Janet - waiting for notification of a couple of hospital appointments for Janet
Top of page
---
Former PSNC Officers who have "Crossed the Bar" since our 2010 Reunion
Ron Berry - 2nd Engineer
Jack Ellis- joined as an Apprentice in 1933 and stayed 8 years
Dudley "Chalkie" White - 2nd Mate and later Captain with other shipping lines
For details please see Obituaries
Top of page
---
Photos from both evenings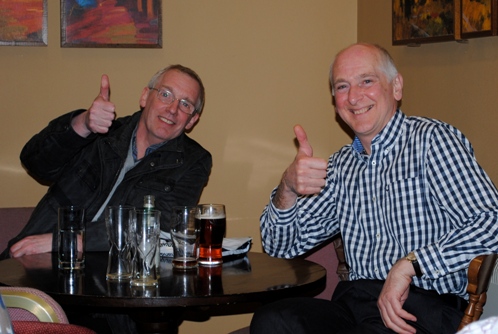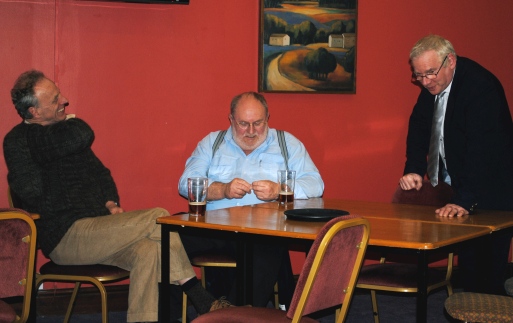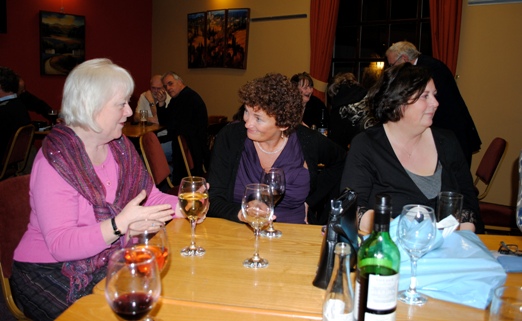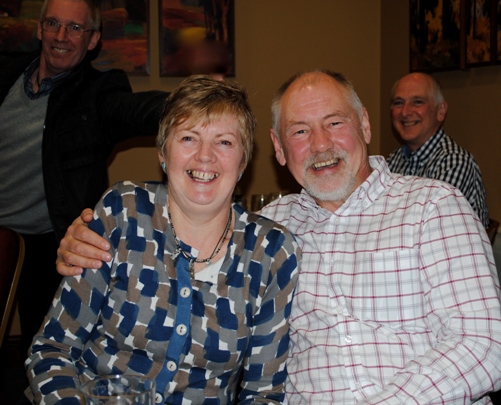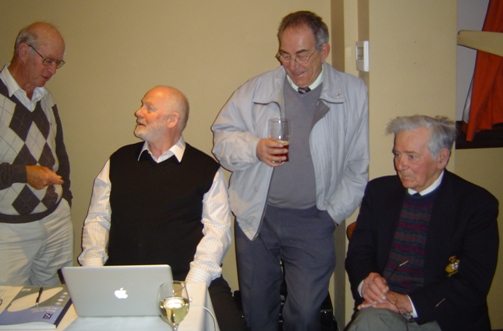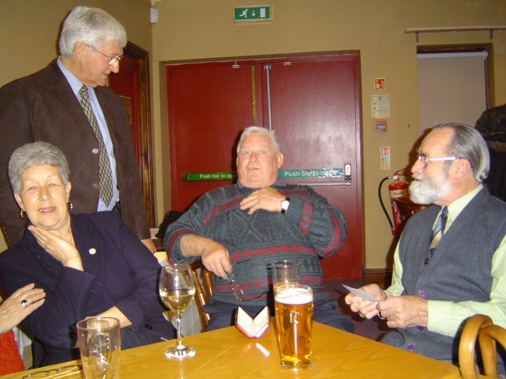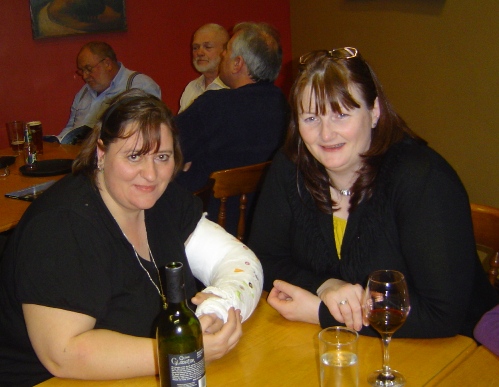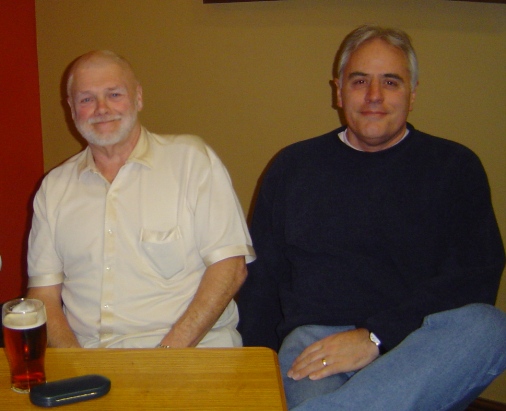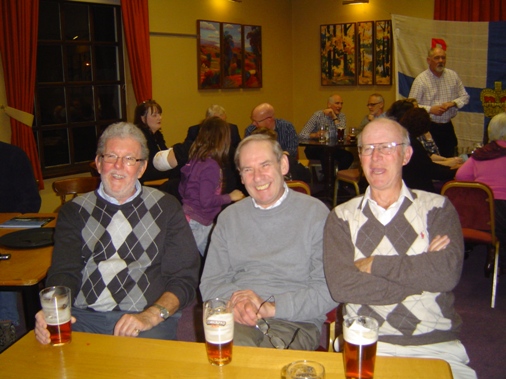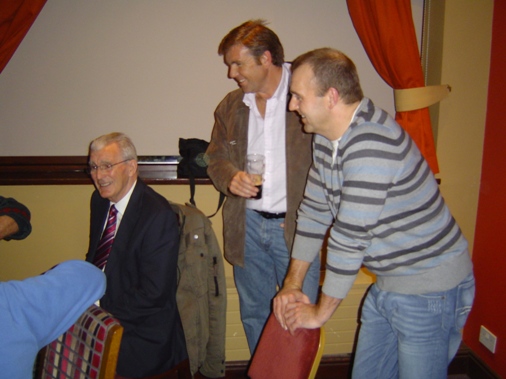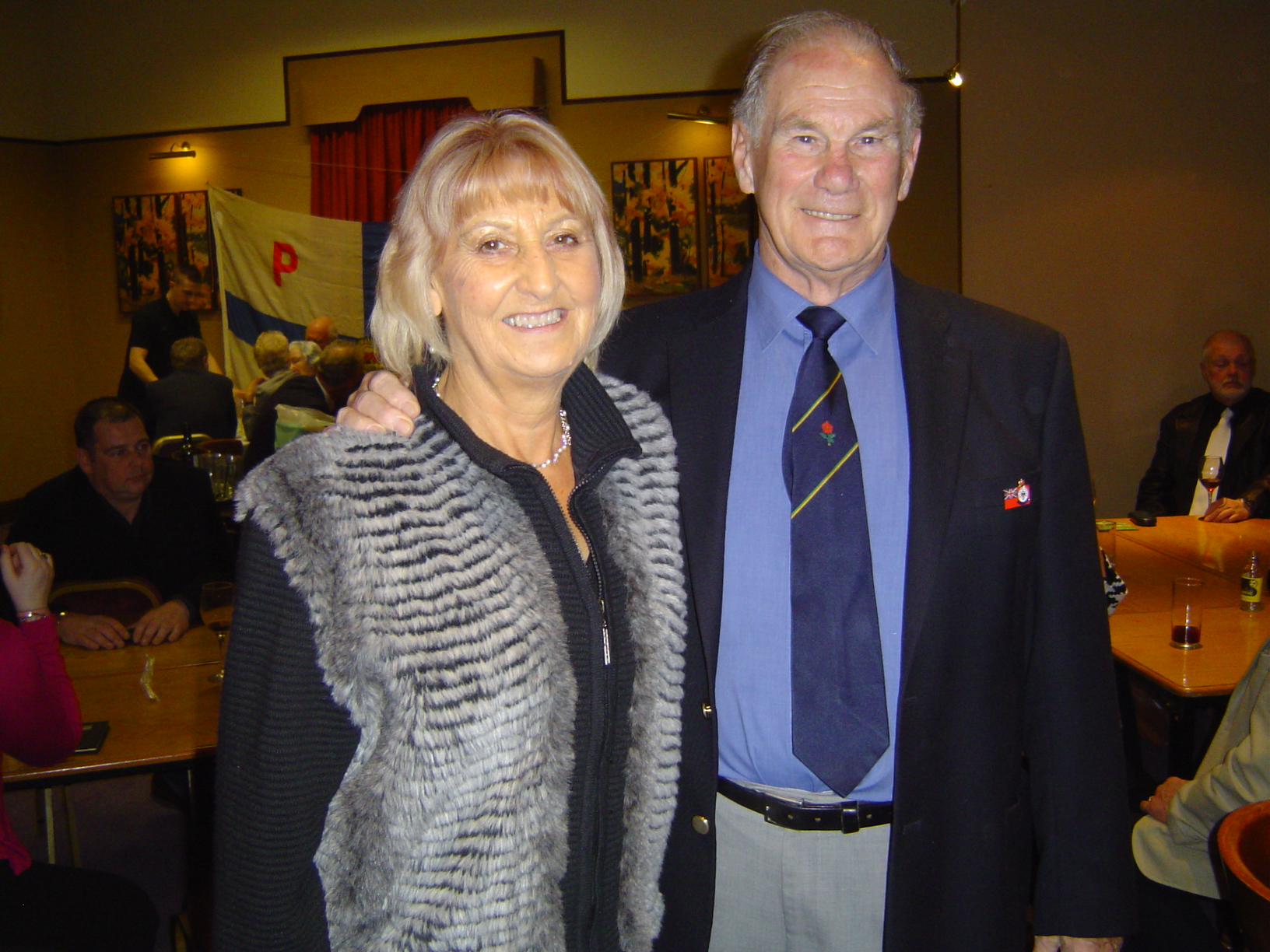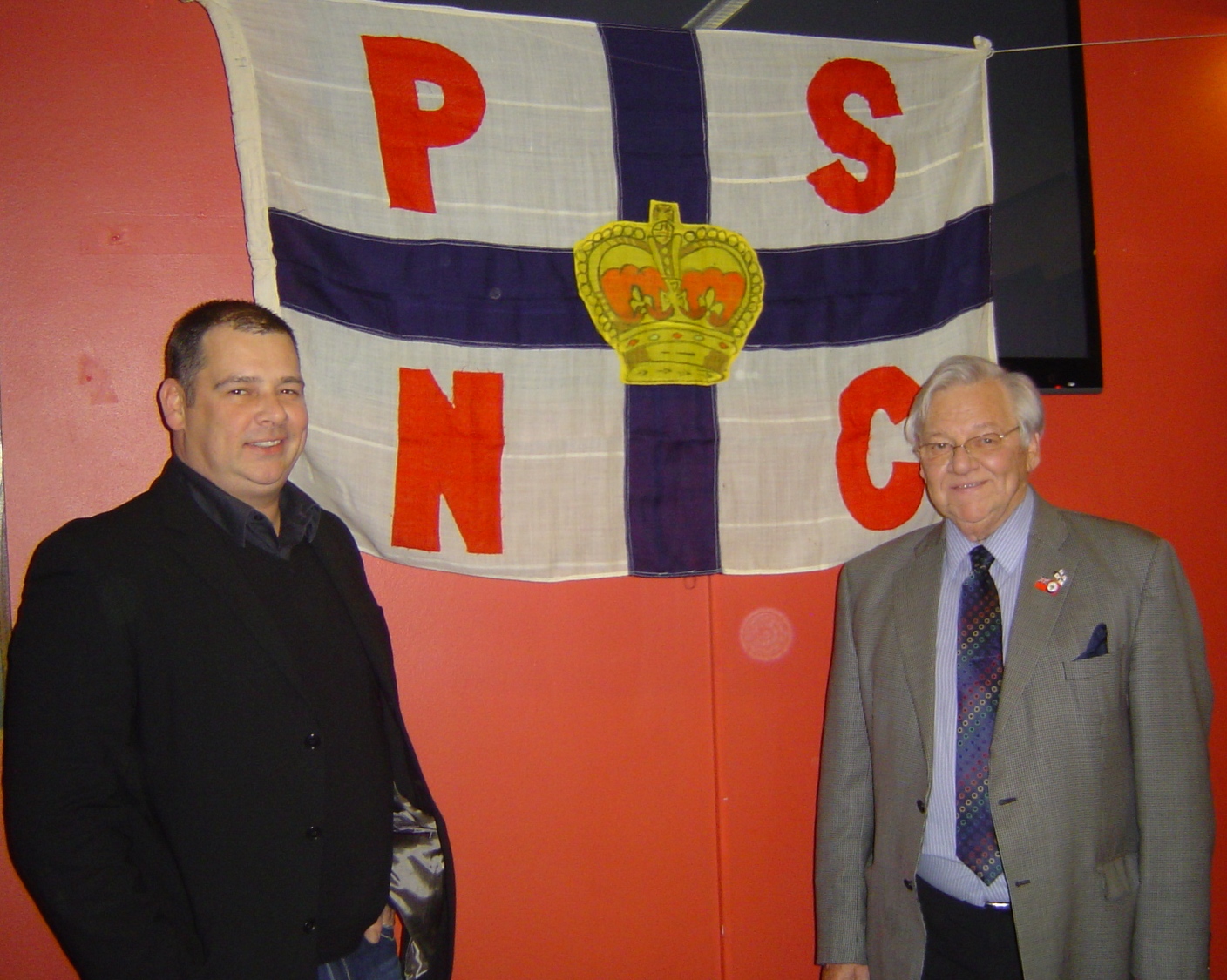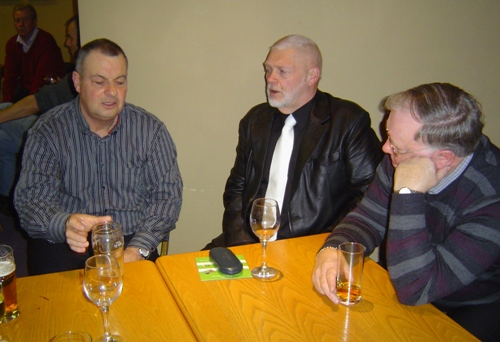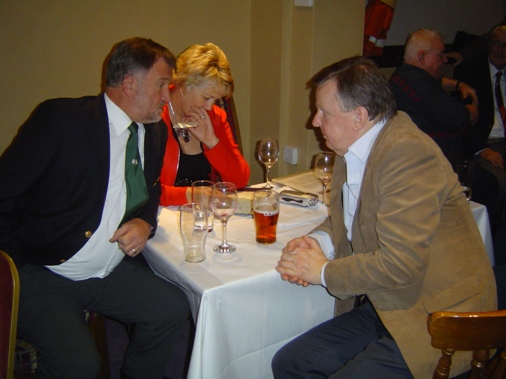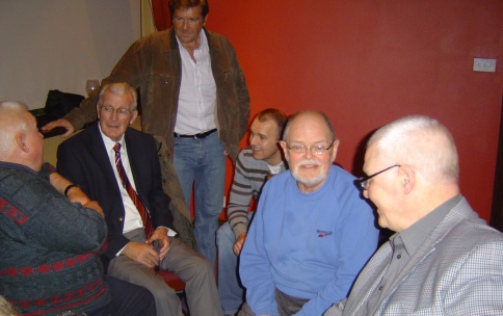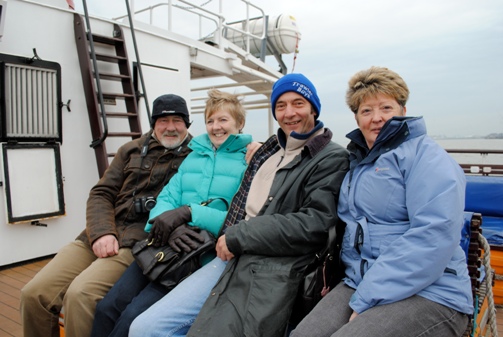 ---
PSNC House Flag Badges . . . PSNC index page . . . Photo Index . . . Barry's Site Index Page