Details of Keith's first trip on the "Losada", which he joined in dry dock Hull, may be of particular interest to former PSNC personnel:-
" We called at 27 ports during a six month voyage before she went to be scrapped in Barrow. (See the image above of the ports of call listed on the rear of a postcard)
Also, a typical voyage on the "S-Boats" averaged four months with calls at 30 to 33 ports. I have posted two vessel postcards and onthe reverse of one I noted the ports, etc.
Cheers, Keith."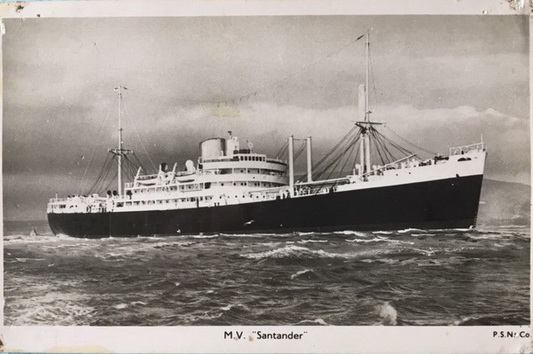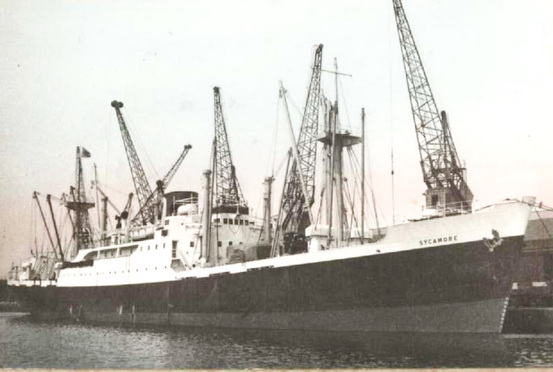 "Cadets Derek Gillam and Keith Adams were called off leave to join "Sycamore" in Manchester and bring her down to Liverpool to join West Indies Service for PSNC"
"Sorry, no surnames, just nick-names and rank. I never asked for surnames. We were from mv "Salaverry"

Anyway, Colin ( Frody) 2nd Elect. Keith ( Adds or Blondie) and Tom ( Sonny) 2/6th Eng. in the Plaza San Martin, Lima on 19 March 1956.
Think that is the Bolivar Hotel (Dark Building at left) was that the Palace behind us? I know the Crillon Hotel was on the opposite side of the Plaza from the Bolivar. Favorite spot for a beer was the bar in the basement of the Bolivar. The trip out to Lima was a wild ride on the trolley car, operator on a suicide mission; of course one could always pile into a "Collectivo" Taxi for a different type of excitement! Pretty sure that was my last trip, if so, then the 3rd Mate was Ray Davis on his first trip after his 2nd. Mates. I was with Ray on my first trip aboard the "Losada" almost four years earlier ... he had just then finished his first trip on the "Salaverry" when he joined us ... we all made at least one trip in the early 1950's with the notorious Allenby as 1st. Mate aboard the "Slavery"! HQ made sure of that, sort of a right of passage!"
C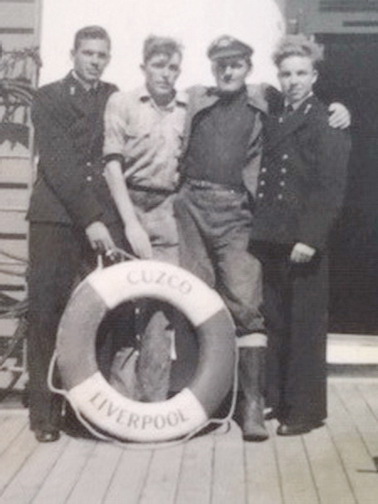 (Above) John Bamforth "Jock" Crowther; Mike Williams Keith Adams
&nbsp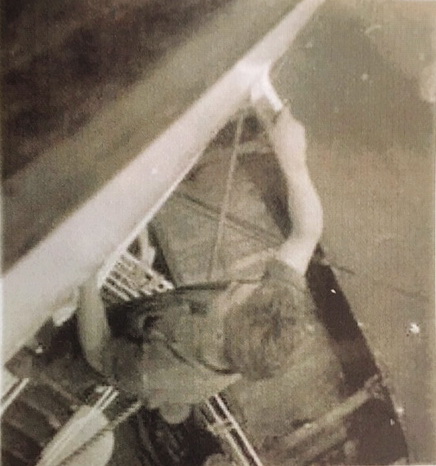 "I am at least 50 feet above the bottom boards of the empty launch and I am standing on the boat deck bulwark,leaning back against a simple rope tied between two stanchions.
A case of .... one hand for the ship and one hand for self! If my mother only knew!"
This photo of Keith painting over the side, possibly in Tocopilla, was taken by Cadet John Bond.
After obtaining his Second Mates Certificate of Competency Keith joined Canadian Pacific, followed by Bibby Line.
He returned to this company after obtaining his First Mates Certificate of Competency.
Later joined Harrison and Palm lines.

In 1961 Keith emigrated to USA where he became an Ocean Marine Underwriter in Chicago and later Marine Superintendent for Great Lakes Storage and Contracting.
He ended up as Marine Surveyor in San Francisco for many years.

Thereafter, he volunteered aboard ss "Jeremiah O'Brien" in San Francisco, mostly as an AB (Able Seaman) and occasionaly as Bos'n.

Later, in his "retirement", he returned to sea as an AB and celebrated his 75th Birthday aboard the ammunition ship ss "Cape Jacob" in Korea.
This involved 6 months on station off the Korean and Japanese coasts.
After that he sailed as AB aboard APL container ships sailing out of both East and West Coast ports to earn funds to refit and reroof his home of over 45 years!
Unfortunately, he injured his right arm in Singapore thereby ending his working days at ripe old age of 78 years!
He was obliged to retire upon arriving in New York.

"Cheers old friend, I do hope this potted history may be of interest to you and your readers.
I wish you and all ex-PSNC best wishes for the future.


Kind regards,


Keith"

This page was created 18th September 2019

PSNC House Flag Badges . . . PSNC index page . . . Photo Index . . . Barry's Site Index Page