Reina del Pacifico - Pursers - c1957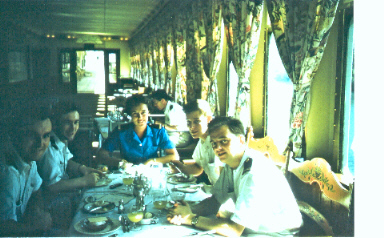 Left to Right:


Chris Ellis, Terry Clarke, Pat Tanner (formerly Hewlett), Terry Seaton, & Gordon Sykes-Little

All were Asst Pursers except Terry Seaton who was Senior Asst Purser. The photo was taken whilst having an 'al fresco' lunch on the 1st Class promenade deck during a transit of the Panama Canal, probably in 1957. I think the "al fresco" was Pat's first trip whilst the photo in the Bar was after she had had time to get a proper uniform.

Terry Seaton, Terry Clarke and myself went on to become Pursers on cargo vessels when the Reina del Pacifico was taken out of service. Pat went to the Reina del Mar and I believe Gordon Little left the company during the purge of 1958/9 when everyone was either demoted or sacked. My brother, who was a navigating officer with Blue Flue, P & O and Bookers, tells me he sailed with him on one trip - probably with Bookers.
---
Photo Index . . . PSNC index page