Salamanca Officers 1962
I've just chanced on your website and thought you might be interested in this photo. It was taken in June 1962 aboard the MV Salamanca while we were in port at Valparaiso (I think).
If my memory serves me right, it was taken by a rather shady character who cut hair, sold silver jewellery, took photographs and bought Yardleys stuff and any Scotch we might have. He carried with him a large tripod mounted wooden camera inside of which he had trays of developer and fixer and after taking the photo rummaged about under a black hood for about ten minutes to emerge with a set of photographs. I think his thumbprint is still visible at the bottom of the picture.

I am afraid that with the passage of time I've forgotten all these young officer's names but I do remember :-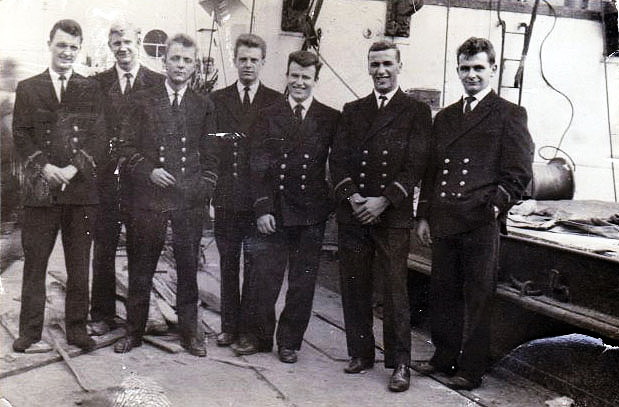 (L to R) Sammy (no surname) Fourth Engineer, ??? , (me) Pete Roberts Junior Engineer, Colin O'Hara (Lochinvar) Electrician and Billy Cropper Fifth Engineer.
An exciting time with a great set of lads.
I've really enjoyed your website and I hope this photo is of some use to you.
Best wishes. Peter Roberts. (Nov 2013)
N.B. If you can identify anyone in the photo please let me know and refer to "Salamanca Officers 1962". Thanks. Barry
Updated 07 November 2014
Arthur Stringfellow thought the officer first from left was Stuart Raydon from Scotland. Can anyone confirm this?
Fleet Index . . . PSNC index page