PSNC's ship Salinas' involvement in 1956 Suez Crisis
The following was received from Malcolm Ratcliffe in June 2019
Mention has been made in the past that "Salinas" was a stores ship! That was quite an understatement!
In September 1956 m.v."Salinas" was requesitioned by the Admiralty and flew the Blue Ensign which was defaced with a cartwheel.
(This was the Sea Transport Ensign.)
The steel ladders etc. in No.1 Hatch were all covered in ropework in prepartion for the carriage of explosives.
She was fitted out in Bidston Dock before sailing to Barry Docks in South Wales.
There she loaded a full cargo of Military equipment:- Auster aircraft in crates and Jerry cans of petrol!!
All this cargo was used to support operations in Cyprus against the "Eoka Terrorists" and Bishop Makarios.

(Left) An Army Tanker truck being loaded for Cyprus with the ship's Jumbo derrick at Barry docks.

"Salinas" discharged all the cargo into lighters at Limassol, Cyprus where
the ship was anchored for several weeks.
During the stay a situation arose (known in recent years as "a complete error " by politicians)
for control of the Suez Canal.

Captain A.B "Archie" Powell of "Salinas" was called to a Royal Naval ship
and given orders to proceed to Famagusta to load Military equipment.
"Salinas" did so and loaded at anchor there for Suez.
Capt. Powell was Commodore of the convoy of approximately 12 to 15 ships which sailed from Famagusta to Suez.
"Salinas" was centre vessel of three columns of ships in the pattern of the Atlantic convoys in WW2.
This convoy may well have been the last of its type in history.

The convoy had a guard ship H.M.S. "Ulysses" (F17), and the 4 cadets were the signallers.
Radar was not used and navigation lights were not displayed during the passage to Suez.
She arrived there on 6th November, the day after the "Invasion".
The ship was given a Mediterranean moor with stern lines to buoys at Port Fouad (Opposite Port Said)
.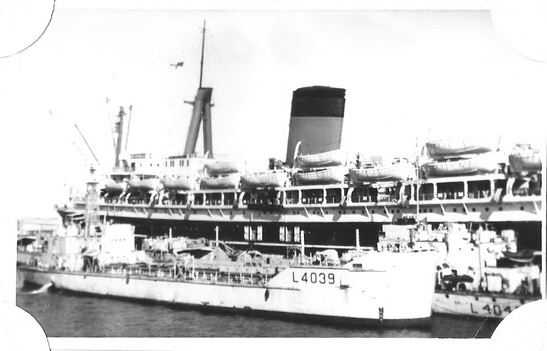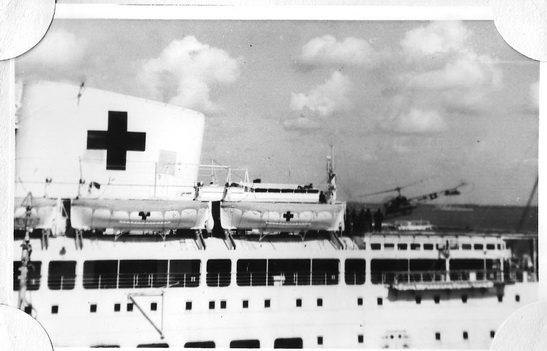 Shaw Saville passenger ship - "New Australia" was carrying "Z Reservist Troops". French Hospital ship "La Marsielle" with an injured person in the helicopter.
(This photo was taken from the starboard side of "Salinas")

Deck officers on "Salinas" were:- Captain A.B. Powell, Mate: Phill Whittaker, 2nd Mate: An Irishman from Belfast !! 3rd Mate: Louis Hayler

Cadets :- Senior Cadet was Ivan Clouherty, and three first trip cadets, John Taylor, myself (Jake), and I think Crawford?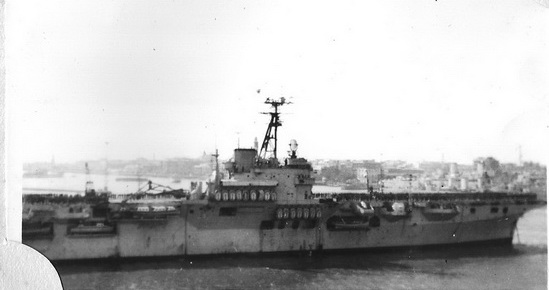 Aircraft carrier H.M.S."Bulwark" with the Parachute Regiment on board.

The blockade of the sunken ships can be seen in the Canal.

&nbsp:

Barry, I do hope this info may be of interest to you. I wish you and all ex-PSNC the best of health and good wishes for the future.

Best regards,


Malcolm.

This page was created 30th June 2019

PSNC House Flag Badges . . . PSNC index page . . . Photo Index . . . Barry's Site Index Page