Salaverry Officers circa 1961
Photos submitted by James B. Byrne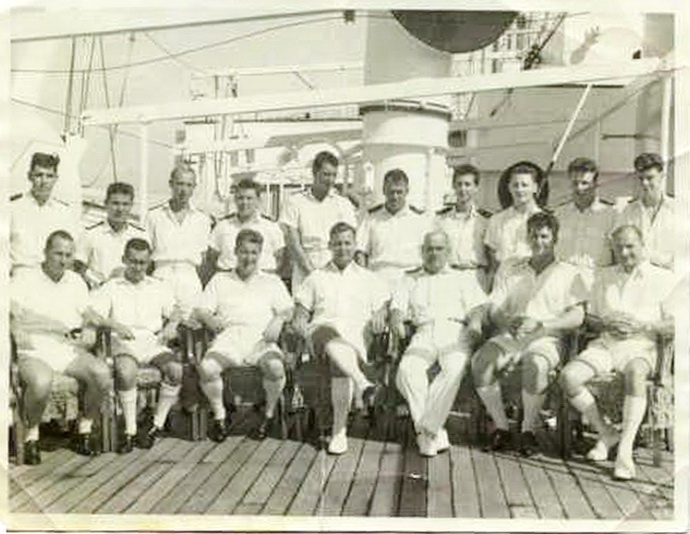 Back Row L to R
???? Cadet : Kevin Miles 1st Elect : ???? 3rd Mate : Ian Tickell 3rd Eng : ???? Jr Eng : Wally Jenkins 2nd Mate : ???? Spanish Jr Eng : ???? 5th Eng : James B Byrne 2nd Elect : Arthur Downing Cadet
Front Row
???? Radio Op : ???? Purser : Clem Rowntree 1st Mate : Capt Campbell : Bertie Thomas Ch Eng : Frank D Atkinson 2nd Eng : Gordon Ellis Chief Steward
Please let me know if there are any faces you recognise or can provide any further details or a date.
Arthur Downing believes he is on back row extreme right and photo was taken between Sept and Dec 1961.
Any other info from anyone?
Frank D. Atkinson contacted me on 24 Jan 2008 to update more names and confirm Arthur Downing on back row.
---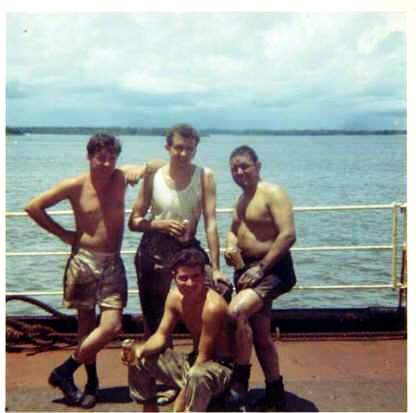 Standing : James B Byrne 2nd Elec : ?? Catterall 4th Engineer : Ian Tickell 3rd Eng

Seated : Kevin Miles 1st Elec
Photo Index . . . PSNC index page