Robert Gordon's College School of Navigation
Possible Reunion?
Did you attend Pre-Sea (Cadet) training at this Aberdeen College in 1958 1959 and/or 1960 or up for Second Mates ticket around 1962/63 or Mates Ticket around 1964/65?
If "YES" do get in touch with me. Harry Scally and Les Roger did so and expressed a real desire to get together with former students.
NEW! 30th July 2014

I was in contact with Harry Scally who was due to visit Aberdeen 5th, 7th and 8th August this year with his wife Ann and really wanted to meet up with anyone who remembered him from "Nav School" days.

I managed to contact Murdo MacLeod, Robbie Middleton, Les Roger and Dennis Thompson and said here that if any others from that era managed to read this entry to please get in touch.

"Please email me asap. It will be good to catch up and reminisce! Barry." As our numbers were low we decided to meet at Barry's place.
---
Further to that message, four of us, and our wives, enjoyed a get-together on Friday. Unfortunately, Dennis Thompson had planned to be there but was unable to because of a hospital appointment.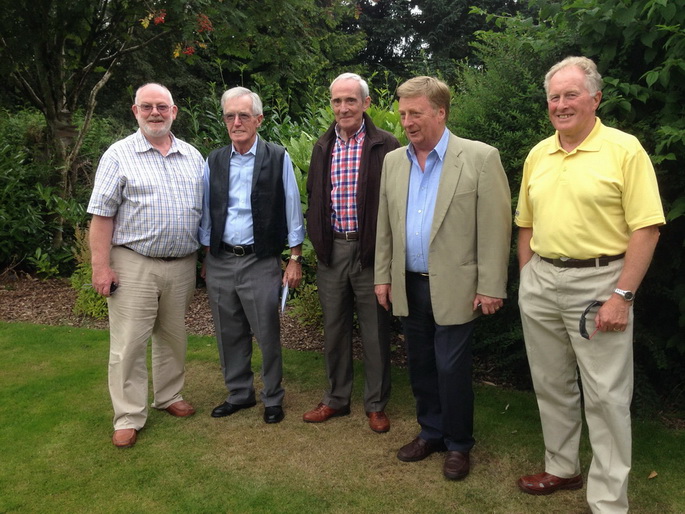 Barry, Harry, Murdo, Robbie and Les
---
In past years I had been in contact with

Ian Barclay who is now based in Germany and attached to "Egon Oldendorff"

Jim Buckett now sadly deceased - was Master on an Offshore Supply vessel and previously a Lt Comander in the Sultan of Oman's Navy after Merchant Naval service.
Peter M Cooney who was a Captain and a Director of V.Ships
Ken Kinloch has been running a shipping Company in New Zealand for some years and visited us some years ago.
Murdo MacLeod was Harbour Master at Inverness for many years before retiring.
Eric Milne Was living in Inverness and related to Murdo MacLeod through marriage. Sadly, he passed away in March 2013 (See the Death Notice)
Robbie Middleton has been heavily involved in things Maritime (see his web pages)
Leslie Roger (and myself, Barry) took early retirement from different businesses and are now wondering how we ever found time to work!
Harry Scally has been a pilot at Anchorage in Alaska for many years and was over here on a holiday. He would be happy to come back at any time for a reunion.
Dennis Thompson sadly, has now Crossed the Bar. He was obliged to take early retirement for health reasons and lived in Banchory.
Where are they now?
When we scratched our heads we came up with other names including:-
Ivor Anderson: he and I sailed together for our first trip with PSNC. We lost contact years ago
Ian Barclay
Neil Collier
Neil Duncan: had relatives in Brechin
Jim Edgar
Graham Grant
Bob Pert
Gordon Pirie
Roddy Roberts
Ian White
The list is not exhaustive, so if your name is missing do forgive us as our memories are not what they used to be!
If you know any of these former "Officers and Gentlemen" do please draw their attention to this page or send me an email with details of how to contact them. Thanks.
---

I have been asked by David Henderson to try and find Ian McLean who was ex Aberdeen Grammar School prior to attending "Nav School" circa 1957/58 in connection with a 50th Reunion of Grammar School pupils in October 2009. Please pass any info to myself. Thanks! Barry Erskine
Update: Unfortunately there was no response to the above but even now I am sure David would appreciate information. (August 2014)
---
Andre Kponou

I received this email in early August 2009 and I hope someone will be able to help him.

"I attended the school for pre-sea from January 1967 to, I think, June of 1967. Coming all the way from Africa, what an experience seeing snow for the first time in Aberdeen!
It seems the school might have closed but perhaps you will be able to put me in touch with someone who went to the school at the same time. There was a navigation teacher, Mr Mckenzie, I am sure that was his name. He came from Australia and what a nice gentleman he was!
My name is Andre Kponou and, as I said, I was there from January to June of 1967 and had a wonderful time in Aberdeen. Just for the hell of it, is the Beach Ballroom still in existence? That was one of our hangouts, and Davy Jones Locker or the Blue Moorings (probably Blue Lamp, Barry) ... as I write these names seem to come to mind.
I very much hope to hear from you sometime. Thanks, Andre"
---
---
OBITUARY
Buckett, James Lees, Master Mariner and Lt. Commander, died in an Aberdeen Nursing Home on Monday 30th July 2012. He is survived by his wife Barbara-Ellen and two sons. Funeral was on Monday 6th August in Aberdeen.
Insh, Colin - Sadly, Colin passed away on 7th January 2008 in ARI after quite a short illness. He had very aggressive form of lung cancer. Colin had been working at his "retirement job" as 2nd Mate on the Stena ferry to Belfast for a few years. Noreen and he had recently moved to Hopeman.
Milne Eric Gray - See the entry in the Press and Journal dated 13 March 2013

---

To Main Index Page
---